Stone brewing Berlin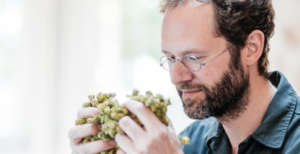 Thomas Tyrell joined Stone two years ago with more than 22 years of professional brewing experience in Europe, the United States and beyond. Tyrell is celebrated for his research on yeast strains, fermentation and beer flavour stability. In December 2015 Tyrell earned his PhD in brewing science. At Stone, Tyrell is responsible for managing all aspects of the brewing department including brewing, packaging, scheduling, incoming ingredients and materials, utilities, maintenance and most importantly – the beer quality.
How would you describe working at Stone Brewing Berlin?
Working at Stone Brewing Berlin in one word? Ambitious! Since Stone started over 20 years ago now, it was and will always be our goal to brew bold, outstanding and unique beers. It is not in our nature to adjust our beers for specific audiences: We brew what we love – and hope others will love it too. Also it is an integral part here at Stone Brewing Berlin to collaborate with our friends in the craft beer scene: always challenging, but also always fun and with amazing results.
What makes Stone Brewing so special?
We make no compromises when it is about brewing outstanding beers – and we never aim for the lowest common denominator – in analogy speaking this would be "elevator music" in comparison. Instead we like Rock 'n' Roll, to strive for brewing high quality, bold character and to the most part very hoppy beers.
Could you substantiate the decision for building a brewery in Berlin?
The decision to build a brewery for the European market was made a long time ago. In fact our Co-founder and Executive Chairman Greg Koch had that idea about 7 years ago. After visiting 130 sites in 9 countries he decided for Berlin. Next to the super-interesting brewing culture in Germany and Europe, another aspect was key to this: Freshness. We wanted to brew the Stone beers here centrally in Europe instead of shipping them around the globe. Shipping beers brewed in California all the way to Europe didn't help us deliver on the 'freshness promise' fully – and also didn't make for a responsible carbon footprint.
How would you define quality? What are the key facets?
Quality is the most important aspect for Stone Brewing. Next to qualitative ingredients – quality for me is having a stable product. After packaging, the beer should stay and taste the same way as long as possible. When you do not work with conservatives as we do, you should pay even more attention to the handling of the quality and get the beer in the best condition to the consumer. This is also why we distribute our beers in cans and in a cooling chain, to keep the aroma and hoppiness we worked so hard to create, stay as strong and as fresh as possible.
What kind of actions does Stone Brewing undertake to guarantee quality?
We have a quality panel which is responsible for this. We continuously test during the brewing process and make sure the beer meets our quality levels. We have an amazing test panel that sits down together every day to test all stages of the brewing process to reach the best level of quality possible. Of course it's also fun to compare the beer styles we brew here with the same beer style from California. Let's put it like this: We give our very best to come close in flavour and taste to the original, but we do not strive for a 100% match. In the end, the beers from Berlin and Escondido are like twins, only the mother or a longtime friend can tell the difference.
Could you give your comments on the can versus bottle discussion?
By distributing our beers in cans we're able to better maintain the bold, high-quality flavours. Aluminum serves as an absolute barrier to oxygen and is the only packaging option with an absolute barrier to light. Especially light changes the taste and effects the quality of the beer negatively. In a can, in contrast to bottles, there is zero light coming in. But it all comes down to this: it depends on the brewery, beer styles and the distribution distance. A local brewery with short logistic ways should experience no quality problems with beer in bottles. However, for Stone Brewing Berlin, delivering very hoppy beers to all of Europe, the ideal package is the can. They are the most efficient and sustainable option for us.